While hiking on the mountain one fall day, I kept noticing how many faces were formed in the beautiful, colorful leaves.  So many reminded me of the faces crafters put on ghosts and pumpkins — all sorts of Fall decor.  So I've developed a theory (that I suspect will never be proved or disproved).  I think that people long ago got their inspiration for fall faces from their natural surroundings.
I submit to you my evidence:
Here's a classic ghostly face.
Could this sort of thing have been the inspiration for the concept of "stick a needle in my eye"?  (I don't know how this leaf can look so jolly under the circumstances!)

Some faces are friendlier than others.  (They look better full screen.  Click to enlarge)

Whoa!  Hey!  Is this leaf OLD ENOUGH to be smoking?
There are leaves which sport multiple faces.  My favorite face on this one is the side that's trying to eat the green leaf!
Check out the sweet-faced cutie on the bottom left!  She got formed by a leaf and its shadow!  (I like this one better enlarged, too.)

The Bear Came Over The Mountain! (Sometimes it's a whole tree, not only one leaf.) Oh, my!  Now it's looking more like a beaver head.

I have nothing to say. I just like this picture

There's a wolf  howling in the center of this collage!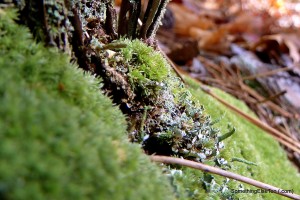 Moss squirrel head. (Moss is just densely-packed really short skinny leaves, right?) :~D
Now?  Do you see them now?
What about now?
So … there you have it.  Anything remind you of crafty faces in the 21st century?  They're just about everywhere out there in my world!